Is there another activity that we participate in daily that has as much damaging satisfaction as eating the American way? Even when the choices are healthy, the relationship most Americans have with food is destructive. The problem is we just eat way too much!
Generally, Americans eat past the point of nourishment and gorge ourselves in the realm of satiety and sensory exploitation. This practice brings to mind another civilization that was renowned for decadent pleasure, the Roman Empire. Roman courses would flood the tables like a conveyor belt of edible widgets; likewise similar lavish spreads are now common place for Americans. Advancements in technology and transportation make it possible to eat our heart's desire year-round just as a Roman aristocrat.
The fact is that the human stomach is approximately the size of a clenched fist (respectively). In order for optimal nutrient absorption to take place, the stomach needs space during digestion. If the stomach is completely full, then it is not able to break down the nutrients. Instead, it reacts to the food as if it is an infection to be rid of quickly. If there's room for the organ to do its job, then digestion and assimilation occurs. That's it. The issue is we eat more than the body can use.
Varied research is underway to address the growing size of Americans. Some doctors say that the body needs one thing and another group of researchers show a different issue. The process of sorting it out could last for decades. A more logical approach is simply to look for living case studies: people who reflect the desired results. There is a popular athlete that is a shining example of simply eating less.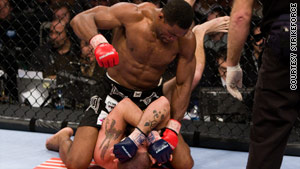 Herschel Walker is a famous college and professional football player who competed in the Olympics, studied ballet and earned a black belt in Tae Kwon Do. Now approaching fifty-years-old, he is engaged in a successful career in mixed-martial arts fighting. To date, he's won both of his fights by knockout, and some say that his incredible endurance makes it possible. To say he is a physical specimen is an understatement. Yes, he is an exception and most people cannot maintain his schedule. However, what is most interesting about Mr. Walker was recently revealed in a few interviews: he only eats one meal a day, dinner. On the menu are soup, salad and toast. He has stuck to this routine for decades. Contrary to what nutritional science professes, he maintains an intense workout regimen in addition to managing his large business and philanthropic endeavors on a very low calorie diet. In acknowledgment of his hard work, ESPN selected him to pose nude for The Magazine's Body Issue. Herschel Walker is a great example of what humans are capable when we don't bog down our bodies: he is productive, physical and eats much less than experts recommend.
(
http://www.cnn.com/2010/HEALTH/10/11/herschel.fitness.martial.arts/?hpt=C2
;
http://www.examiner.com/mma-in-san-francisco/mma-fighter-herschel-walker-talks-about-his-diet-ballet-and-the-nfl-playoffs
;
http://thenewsoftoday.com/herschel-walker-diet/3571/
)
Even though most people are not built like Mr. Walker, the average person could serve their health tremendously by simply eating less. But, this may raise a number of questions. "How much food is too much?" "Am I getting what I need as far as nutrients?" "Should I cut back all at once?"
Remember its best to approach any dietary changes in moderation. Drastic actions do not always produce healthy results. When approaching a smaller diet, also keep in mind that the body needs nutrients to function. A smaller diet should not be mistaken for a starvation plan. Foods that are nutrient-dense, but calorie-low are the key to eating less and giving the body what it needs. Bearing in mind that the stomach is the size of a fist and it needs room for digestion, only eat until the stomach is two-thirds full.
Oh, but wait. Did you hear that? A mental tantrum just took place in someone's mind. That inner voice just whined in protest against the eating less suggestion.
And, there it is the culprit behind our society's vast problems: the menace that demands more when clearly we've gone beyond the day's means. It is the egocentric-me! Well, it is time that we all put the spoiled personality in its place. Reflect on that a moment. Isn't it disturbing that we use food as a way to appease that selfish personality? Why do we eat one more handful of chips when our belts are about to bust? Why do we schedule lunch dates, then dinner dates followed by after-dinner munchies? Overeating creates a feeling of temporary fulfillment. It seems that the quickest escape from the human condition or hole in our hearts is a stuffed stomach.
Along those lines of thought, another tactic for eating less requires much more introspection and personal accountability. Do so by following a simple line of inquiry. When choosing a meal, answer this question, "Will the food in hand support the regeneration of my body's cells, tissues and organs or will the food contribute to its degeneration?" Put even more simply, "Will the food in hand encourage the healing or dying of my glorious body?" The answers uncovered will help select foods that will help repair and regenerate the body, instead of wasting its precious bio-energy on metabolizing and eliminating excess food. When eating less, the amount of bio-energy, life-force or power that can be reclaimed is astonishing!
And there we have it the most important benefit of eating less, besides the weight loss effects, is the amount of life-force saved. After all, in order to create the many wonders of life, we need life-force to do it and lots of it. The greater amount of life-force accumulated indicates vibrant health whereas a lack thereof reflects poor health. So, choosing a food regimen that supports life and vitality makes sense and we don't have to wait for researchers to prove it.
Perhaps the factor that separates each of us from achieving our wildest potential is the amount of food lying on our plates?
~Erica Eddleman Rogers